Our mission is to "Set New Standards & Make a Difference".
We love what we do and we know that you feel the same about your business.
As specialists in Compliance, Assurance, Operational Risk and Safety, our aim is to help your business become more efficient, competitive, compliant, profitable and safe. As specialists in your business, when you trust a team like VIZIONX to help your business, you just want to know that you are in good hands.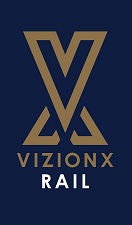 Rail Infrastructure
Rail & Track

Ports & Intermodals

Platforms, Stations, Terminals & Sidings

Regional, National & Inland Rail Networks

High-Speed & Faster Rail
Rail Operations
Network
Rail Operations Management | Control & Signalling
Tram & Light Rail Control | Ports, Terminals & Sidings
Passenger
Urban | Regional | Interstate
Freight
Rural Commodities | Mining Resources | Commercial Freight
Rolling Stock (Assets)
Locomotives, Passenger Carriages & Freight Wagons
Operators & Suppliers | Inspection & Maintenance
Rail Manufacturing
Rolling Stock, Systems & Components
Rail & Track Materials & & Components
Railway Engineering
Civil Engineering | Computer Engineering
Electrical Engineering | Mechanical Engineering
Industrial Engineering | Production Engineering
Railway Vehicle Engineering | Rail Systems Integration
Rail Safety, Standards & Systems
Rail Safety Management & Track Safety
Rail Engineering Safety Case Management
Rail Incident & Accident Investigation
Rail Safety Investigation
Rail Education & Training
Universities, TAFE & Training Institutions
Rail Industry Organisations
In-house Operator & Site Training
Training Development & Delivery Providers
Rail Industry Support Services
Professional & Consulting Service Providers
Banking & Finance
Health & Insurance
Welfare & Support
Recreation Clubs, Travel & Facilities
Regulators & Standards Agencies
Operating Rules & Rail Regulation
Rail Industry Organisations
Industry Networking, Collaboration & Representation
Government Agencies
National
Office of the National Rail Safety Regulator (ONRSR)
Australian Transport Safety Bureau (ATSB)
Infrastructure, Transport, Cities & Regional Development
Infrastructure, Transport & Regional Economics (BITRE)
Rail Industry Safety & Standards Board (RISSB)
Australian Rail Track Corporation (ARTC)
State
Transport for NSW - RailCorp (NSW)
Department of Transport (VIC)
Department of Planning, Transport and Infrastructure (SA)
Department of Transport and Main Roads (QLD)
Public Transport Authority (WA)
Transport Canberra (ACT)
AustralAsia Railway (NT)
TasRail (TAS)
Industry Organisations
Rail
Australasian Railway Association (ARA)
Chartered Institute of Logistics and Transport (CILT)
Permanent Way Institution (PWI)
Rail Manufacturing Cooperative Research Centre (RMCRC)
Rail Track Association of Australia (RTAA)
Railway Technical Society of Australasia (RTSA)
The Institution of Railway Signal Engineers (IRSE)
TrackSAFE Foundation
Stephen Pickard
VIZIONX Operations Manager
Stephen is an accomplished Educator and Manager with over three decades of experience in Aviation and Defence.
David Henderson
VIZIONX Managing Director
Company founder and leading Consultant. With over 35 years in Defence and Aviation David has made a career of "Setting New Standards & Making a Difference".
Clive Adams
Specialist Advisor: Risk & Governance
Formerly the VIZIONX Chief Executive Officer, Clive has over 40 years of Aviation industry experience as a pilot, instructor, manager, senior consultant and Company Executive.